In the past, the performance of the PC was linked with the noise of the internal components. The more noise they produced, the more they were considered to be efficient in terms of performance. But with the evolving esports industry and sophisticated manufacturing, the myth is now long gone.
Now the best silent PC cases are more in demand by the gamers and graphics designers who like to focus on work rather than boost their noisy build.
Several manufacturers are producing the best quiet pc cases these days. They come with a well-ventilated design and better aesthetics to provide a good case for housing your custom build. Although several indicators help buy the PC cases for your build, noise level remains the top priority. Maintaining the noise levels to a minimum is essential to get more focused on gaming or project completion.
Top 5 Best Silent PC Case in 2022
Nowadays, several manufacturers are producing the best silent PC cases. These cases are worth every penny spent due to their noise-free properties. You can build a quiet gaming PC or set up a graphics designing build with these cases.
However, buying these cases need proper knowledge and testing to know their noise levels. Don't worry, we have done the homework for you and saved you time by selecting the best silent PC case 2022 from reputed and top-selling brands.
Phanteks Eclipse P600S Soundproof Computer Case
Phanteks Eclipse P600S (PH-EC600PSTG_AG01) Hybrid Silent and Performance ATX Chassis -Tempered Glass, Fabric Filter, Dual System Support, PWM hub, Sound dampening Panels, Anthracite Grey Gray
Last Amazon price update was: August 11, 2022 4:25 AM
Equipped dust filter for better cooling

Removable magnetic silent covers

Integrated fill and drain port location

Better cable management with the cable covers

Support intensive water-cooling

Unique exterior design with fabric
Specs
Values
Fan Mounts
3x 120mm, 2x 140 mm (top)
3x 120mm, 3x 140 mm (front)
1x 120mm, 1x 140 mm (rear)
Drive Mounts
10x Internal 3.5″
3x Internal 2.5″
7x PCI slots
Radiator Support
120mm: 360 (top), 360 mm (front) , 120 mm (rear)
140mm: 280 mm (top), 420 mm (front) , 140 mm (rear)
Dimensions
20.1 x 9.45 x 20.5 inches
Phanteks Eclipse P600S is among the best silent PC cases for quiet and performance-oriented gaming needs. It looks aesthetically good and blends well with your gaming setup. The airflow, space for the components, and noise control are top-notch, providing efficient cable management and airflow.
Build Quality
Phanteks P600S does not disappoint in the build quality department as it comes with powder-coated chassis made from steel. It comes with optional tempered glass panels that allow for effective sound dampening and silent gaming operation.
On top of that, it offers a reasonable price range while providing the ability to switch between silent and performance modes easily.
Noise Control
The Phanteks P600S offers one of the most effective sound dampening out of all the competitors. It offers insulated side panels with silencing features in spades. The isolation is exemplary for canceling high and low frequencies to leave the case and reach the user. The sound dampening is robust due to the three layers of insulation that fully support the sound suppression.
Even the loudest sounds from the fans and cooling system remain unheard to the ears. The silent mode is a bonus that comes with the Eclipse P600S as it offers effective airflow while not overheating the components.
Cooling System
Apart from the fact that this soundproof computer case comes with insulated panels and sound-isolation. The preinstalled high-performance fans ensure that the air is always moving without creating noise.
While the case has the capacity for up to seven fans in total, you will receive three of them already fitted and ready to use when you open the box. These fans perform a fantastic task of maintaining the case cool while maintaining a low RPM to make it quiet.
This silent PC case with good airflow is a good choice for your build to keep your computer cool while still offering appropriate ventilation to maximize performance.
Cable Management
With the included Velcro ties, the Eclipse P600s gives you great cable management regarding its top-of-the-line dampening and airflow capabilities. The reason for this is that if you choose the glass version, you will want the expansive interior of your case to seem neat and pristine as well as possible.
SSD Mounts
Eclipse P600S also includes four SSD mounts and a spacious PSU compartment with an easy cable management system. One disadvantage of this case is that HDD ports are directly attached to metal surfaces.
Which means that if your HDD starts to make a lot of noise and vibrate, you may listen to some noises. However, the three-layer isolation tether the problem with quite an ease.
Versatility in Colors
With three different color options, including Glacier White, Satin Black, and Anthracite Grey, and the ability to choose between metal or glass tempered side panels, Phanteks Eclipse P600S becomes the ultimate choice.
It is our top pick among the best silent PC cases because it offers the best of both worlds: a silent experience combined with good circulation for cooling, solid craftsmanship, and a reasonable price.
Fractal Design Meshify C Quietest Computer Case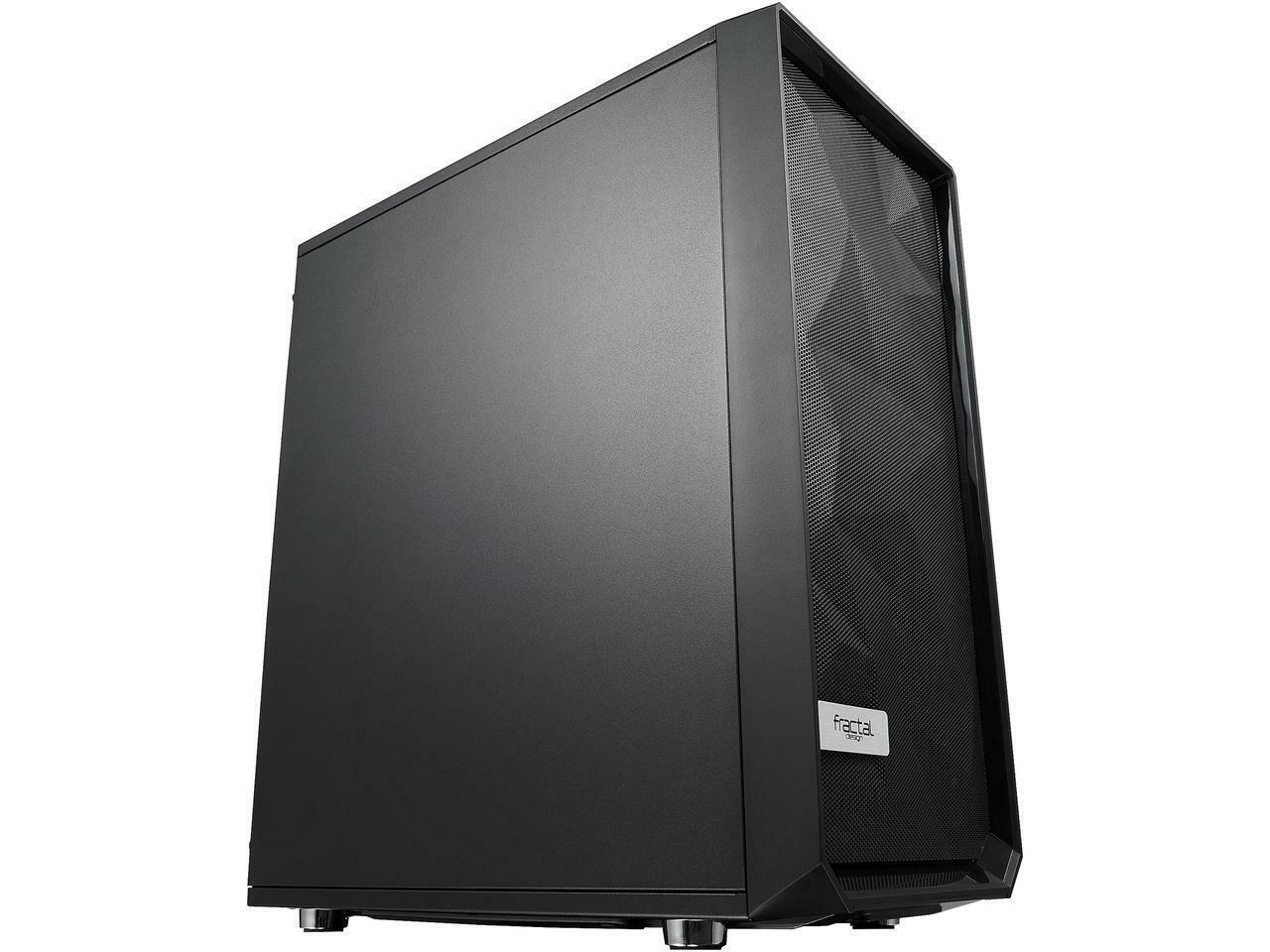 Fractal Design Meshify C Black ATX High-Airflow Compact Mid Tower Computer Case,
Last Amazon price update was: August 11, 2022 4:25 AM
Optimized and deliver maximum airflow

Sound dampening with ModuVent technology

Flexible storage options

Designed for high airflow and silent computing

Diverse motherboard compatibility
Specifications
Tested Values
Form Factor
Mid Tower
PSU Support
ATX
Motherboard Support
ATX, mATX, ITX
Expansion Slots
7
Front I/O Ports
2x USB 3.0
Audio In/Out
Fan Mounts
2x 120mm, 2x 140 mm (top)
3x 120mm, 2x 140 mm (front)
1x 120mm (rear)
1x 120 mm (bottom)
Drive Mounts
5x 2.5″ drives
3x 3.5″ drives
Radiator Support
240 (top), 360 mm (front) , 120 mm (rear)
Dimensions
399 x 210 x 440 mm
If you are looking for the best silent PC cases and the case with excellent sound-dampening and the highest build quality, then Fractal Design Meshify C is a great consideration. It comes with great versatility and additional options to make the build more practical towards the top-notch gaming experience.
Sound Dampening
The Meshify C series uses Fractal Designs' patented ModuVent technology to maintain the air circulating while remaining silent. This implies that, while certain cases offer either a regular full plate plastic cover or aerated paneling.
The Meshify C series gives you the option of choosing either one according to your needs. These panels are simple to repair and replace and provides a significant amount of sound dampening.
To help keep things quiet, the Meshify C best cheap silent PC case includes a ModuVent system and front and side panels with industrial-grade insulation with sound dampening foam. Overall, these cases do an excellent job of remaining silent, even when your build is operating at maximum capacity.
Airflow for Ventilation
In addition to having the choice of seven total fan slots, the Meshify C performs a respectable job of keeping everything cool. Although airflow can be restricted when the ModuVents are in full panel status, it is not so restricted that you run the danger of significantly overheating the internal components.
The top vent features an optional filter that is easy to install when the case is not in full panel mode to provide high-efficiency ventilation that keeps the inside of the case free of dirt. When it comes to keeping cool, Meshify C provides sufficient ventilation compared to the other competitors.
Cable Management
When fully assembled, the PSU shroud, fixed Velcro straps, and cable channel all work together to create a well-organized build that is both attractive and durable. The full tower Meshify C provides a generous amount of space.
However, you need to be strategic in arranging the components to avoid becoming frustrated. It is an excellent choice if you want to build something more compact in size.
Fantastic Versatility
The Fractal Design Meshify C is the quietest computer case with fantastic options and a reasonable price. They provide industrial quality sound dampening, highly efficient airflow, and the option of a full-sized or small build depending on your gaming and work needs.
Design and Aesthetics
The Design Meshify C is exclusively black, even though it is available with a complete tempered glass side panel and a full steel frame. The cases are not flashy for an RGB motherboard gaming setup, but they do the job by dampening the sound effects and remaining practical for most users.
If you are searching for a flashy case with a lot of flair and cooling power for your high-end gaming rig, you may want to look somewhere else instead. However, if you are searching for the best budget quiet PC case that provides an excellent peaceful experience while also appearing sophisticated, the Fractal Design Meshify C is the case for you.
Cooler Master Mastercase SL600M Silence Computer Case
Cooler Master MasterCase SL600M Black Edition ATX Mid-Tower with Aluminum Panels, Vertical Chimney Layout, Type-C I/O Panel, Noise Reduction & Top Air Vents
Last Amazon price update was: August 11, 2022 4:25 AM
Advanced I/O panel with proximity sensor

Adjustable top ventilation

Premium aluminum paneling

Excellent noise reduction technology

Vertical chimney effect for better airflow

Rotatable PCI bracket window
Specifications
Featured Values
Form Factor
Mid Tower
PSU Support
ATX
Motherboard Support
Mini ITX, Micro ATX, ATX
Expansion Slots
11
I/O Ports
1x USB-C 3.1 , 2x USB 3.0 Type A, 2x USB 2.0
Audio In/Out
Fan Mounts
3x 120mm, 2x 140 mm (top)
3x 120mm, 2x 140 mm (bottom)
Drive Mounts
4x 3.5″ / 2.5″ Combo
4x 2.5″ SSD
Radiator Support
360 (top), 360 mm (bottom)
Dimensions
544 x 242 x 573 inches
Cooler Master is a major manufacturer known for making computer cases among gaming enthusiasts. Cooler Master Mastercase SL600M is a sophisticated and unique-looking case for the gaming rigs and ranks higher for best silent PC cases. It comes with cool features that come at a premium price for peaceful higher-quality gaming.
Design and Quality
The SL600M silence computer case provides great ventilation with gigantic low-rpm fans while never becoming noisier than a breath in operation. It has a vertical chimney-based design that focuses on better airflow.
Although it does not have many bells and whistles, this case does have several wonderful features, the most notable of which is a PCI bracket plate that is rotatable.
For new builders, that front panel PSU shroud and setting the component can get tricky. Some additional challenges are involved in setting up the rig, which is relatively easy to manage for experienced builders.
Vertical Cooling Design
The primary purpose of the vertical ventilation design of the chimney is to facilitate airflow in the Mastercase SL600M best quiet cool PC case. It also has the additional benefit of making the case extremely silent, especially on the side visible to the user.
The front and rear panel of this best silent case for PC has a solid construction, while the acoustic minimization runs throughout the interior design of the case. Additionally, the two massive 200mm fans that came preinstalled run at a low RPM, allowing the case to be whisper quiet while not in use.
Front and Back Ventilation
The combination of anodized aluminum, tempered glass, and steel construction effectively keeps sound contained within the casing and out of sight. While most of the design considerations went towards maintaining the interior cool, Cooler Master also did an excellent job of keeping this case silent for the users.
For example, instead of using the traditional front-to-back airflow, the Mastercase SL600M quiet gaming PC cases uses the natural rise of temperature to provide good ventilation.
It aids in the improvement of the airflow and ventilation, but two enormous low-RPM fans are the real winner in this soundproof PC case that draws in cool air from below the computer and exhaust it from the top.
Also included is a top panel that offers a variety of positions, including entirely in place, propped up, and completely removed to give additional ventilation. Because the case draws air in from the bottom, the case stand provides a significant amount of clearance, allowing for sufficient airflow to keep your components cool.
Cable Management
The construction of the MasterCase SL600M best silent mid-tower PC case is one of the more complex parts of the design. Because the top and bottom have cooling options, the power supply shroud resides at the front of the chassis.
The shroud is flexible, which gives it an adjustable size to accommodate smaller or larger power supplies.
However, it becomes difficult to manage the wires because the gravity is working against you while keeping them away from the fan. Even though Cooler Master has included many cable mounts all across the case, it is still necessary to plan out your build to maintain a clean setup.
Plus Features
The MasterCase SL600M has various quality features, including a customizable fan slide, a plethora of USB ports, and a motion trigger sensor for the USB LED indicator lights on the front. Because the airflow runs vertically, it has a swivel and customizable brackets to offer a varied build space while also optimizing cooling characteristics.
Fractal Design Define R6 ATX Silent Case
Fractal Design Define R6 - Mid Tower Computer Case - ATX - Optimized for High Airflow and Silent Computing with ModuVent Technology - PSU Shroud - Modular Interior - Water-Cooling Ready - Black
Last Amazon price update was: August 11, 2022 4:25 AM
Tempered glass scratch-resistant side panel

Anodized aluminum cover

Initiative layout for clear airflow

High-density industry dampening for silence

Reversible front door for adaptability with elegance
Specifications
Values
Form Factor
Mid Tower
PSU Support
ATX
Motherboard Support
eATX, ATX, mATX, ITX
Expansion Slots
9
Front I/O Ports
2x USB 3.0
2x USB 2.0
Fan Mounts
3x 120mm, 2x 140 mm (top)
3x 120mm, 2x 140 mm (front)
1x 120/140 mm (rear)
2x 120/140 mm (bottom)
Drive Mounts
11x 3.5″ / 2.5″ Combo
4x 2.5″ SSD
Radiator Support
420 (top), 280 mm (front) , 120 mm (rear), 280 mm (bottom)
Dimensions
18.31 x 9.15 x 21.38 inches
Fractal Design Define R6 is among the best silent PC cases that show the highest build quality and ability to select the components due to the spacious interior. It comes with logical layouts with excellent sound dampening technology. This technology makes it a fine choice for one of the quietest PC cases in 2022.
Excellent Build Quality
The Fractal Design Define R6 makes excellent use of steel, aluminum, and plastic throughout the body, which is what we can expect from the manufacturer of one of the highest quality cases for custom builds. Like the Silent Base 802, you may purchase this PC case depending on your personal preferences.
It comes with a solid and tempered glass side panel and color choices of white and black. Due to the higher build quality, you can ignore squared-off design, which looks dull or outdated for some gamers. However, the styles are a matter of personal preference and subjective concern.
Expansion Slots
The space and room for expansion is not an issue with the R6 as it accommodates up to the EATX motherboard in its mid-tower chassis. Despite the inclusion of the large motherboard, it has space for the beefy parts, including GPU and CPU.
The interior of the Fractal Design R6 has enough space to assist up to 6 SSDs and hard disks. It also supports vertical GPU mounts for more versatility. Besides that, there are 9 expansion slots for the graphics card with support for many other PIC3 devices and peripherals.
Superb Airflow
The R6 ATX silent case has room for installation for nine fans inside the case. It includes two or three fans on the top and front depending on the 140mm and 120mm size while accommodating two 120 or 140mm fans. The layout has a design to adjust one fan of 120 or 140 mm at the rear.
This silent case can accommodate the water cooling options quite well with a great range of versatility. You can hook up to a 360mm radiator on the front, 280mm on the bottom, and 420mm on the top to address the cooling needs in the water-cooled system.
Besides the additional options for cooling, Define R6 comes with two stock 140mm intake fans at the front. There is an exhaust fan to deal with the airflow and heat dissipation at the rear. The stock fans are much quieter and less noisy while providing optimized and best airflow.
Sound Proofing
Besides the substantial adaptability of the chassis, the Define R6 best silent gaming PC cases incorporates dense sound-dampening material for eliminating the chance of sound leaving the chassis on sides, front, and top panels.
It provides consumers with the flexibility of opting for maximum noise insulation while without significantly affecting air movement. There is also large dust filtration on the top and bottom of the unit, making cleaning them a breeze.
Extra Features
The Define R6 is among the top silent pc cases 2022 that is most expensive on the list, with prices different for the windowless and windowed versions. The windowless version is slightly cheaper than the windowed version.
Despite this, the significant portion of flexibility and functionality packed into this case making it a fantastic value and an excellent choice for those looking for a case that operates quietly.
Be quiet! Silent Base 802 Best Be Quiet Case
be quiet! Silent Base 802 Window Black, Mid-Tower ATX, 3 pre-Installed Pure Wings 2 Fans, Sound Insulation, Tempered Glass Window
Last Amazon price update was: August 11, 2022 4:25 AM
Excellent noise insulation with extra thick pads

A detachable top bracket for easy installation

Easy switch between maximum airflow and silent build

Convertible layout for a motherboard with detachable bracket

Bigger radiator installation capacity
Specifications
Tested Values
Form Factor
Mid Tower
PSU Support
ATX
Motherboard Support
Micro ATX, Mini ITX, ATX, EATX
Expansion Slots
9
I/O Ports
1x USB-C 3.1 Gen 2
2x USB 3.0
Audio In/Out
Fan Mounts
3x 120/140 mm (top)
3x 120/140 mm (front)
1x 120/140 mm (rear)
Drive Mounts
15x 2.5″ drives
7x 3.5″ drives
Radiator Support
360 mm (top), 420 mm (front), 140 mm (rear)
Dimensions
21.2 x 9.6 x 20 inches
Be quiet! is an excellent manufacturer for the best silent PC cases. The Silent Base 802 is one of the best choices for the silent cases that provide excellent cable management, airflow for the components, spacious layout for the components, and on top of that, a silent gaming PC case for more productivity.
Cable Management
Air cooling and water cooling systems will benefit greatly from the inside of the Silent Base 802. When it comes to cooling, there is plenty of room around the motherboard for massive air CPU coolers, and the upper drawer is excellent for placing the radiators for the liquid cooler.
The areas designated for cable routing around the component and motherboard are protected by soft rubber rings to make cable management as simple as possible. While there is plenty of space at the top of the motherboard plate, this has the downside of causing unsecured cables not to bundle together, which is a significant source of frustration.
Fans for Airflow
The airflow for the be quiet! Silent Base 802 is outstanding due to its open space layout. It gets a positive influence from the configuration of the preinstalled fans. The airflow configuration is positive at Base 802, while the temperature difference is obvious between open mesh panels and closed metal side panels.
High Noise Control Level
The noise levels on these best silent PC cases are tested and controlled for the stock-installed fans. However, they are on their maximum settings, which means they get tested for the maximum noise they can produce at their potential speed.
Design & Build Quality
The best be quiet case interior is mainly similar to the Silent Base 801, except for minor differences. Operating with this case, however, seems unique when compared to operating with older versions. This is because its outer shell is better and improved from the previous models.
The detachable panels make it easier to move all-around case and its inside thanks to their design.The build quality is excellent, with a sturdy frame and detachable panels allowing the user to arrange the system in an inverted configuration.
All of these design considerations, however, have a downside, which is the use of plastics. Even the case stand has a plastic build that is turn off for many gamers.
Customizable Facility
The Silent Base 802 quiet mid-tower case has a sleek look and does not have any RGB lighting. Instead, it has a plethora of customization choices available to play around with. Top and bottom magnets hold the detachable panels in place, and clips hold them at the front. Using the side panel mounting method is a delight, and other manufacturers should note its design and implementation.
Other Features
The Silent Base 802 is excellent at keeping the dust away from the interior using dust filters. These filters reside on the inflow and outflow at the top and bottom with thick and long lining. Overall be quiet! 802 is an excellent case for everyone's needs except those who like RGB lighting and all that gaming-centric looks.
Purchasing Guide for the Best Quiet Computer Case
Selecting among the best silent PC cases is not an easy deal if you are a beginner. If you are a pro, you can still get confused in the buying process due to the excellent options available in the market. We are listing some important things necessary to consider to get the best silent PC case.
Form Factor:
The size of the PC case is essential because it may control the size of the motherboard, which can fit in this case. That's why it is necessary to determine the size of the motherboard then find the PC case according to the size.
These PC cases can come in different sizes: full tower, mid-tower, Mini-ITX, and Micro-ATX. The name shows that the full tower is the largest, and the Mini-ITX is the smallest one. It is up to you which size is according to your requirements.
However, the PC case can only handle and accommodate the motherboard, smaller than and equal in size. It is beneficial to buy a full tower or mid-tower PC case because it can adjust the large and small size of the motherboard. The quietest micro ATX case is not the best buy for you if you need a spacious case for hard disks and graphics cards.
Build quality:
If you want to use your PC build for an extended duration, it is important to choose a PC case made of good material. Although, some of the cases are larger, heavyweight, and costly because they have good materials construction. But they are reliable as they ensure the safety of internal components and work for a long duration.
The PC case, which has good material construction, has fewer chances of being scratched and avoids dents. A good quality material increases the lifespan of the case and the protection of the motherboard. If you have an aesthetic sense, you may also find the PC case in different colors and designs.
Temperature Control:
A vital thing you must keep in your mind is that the best silent PC case will run hotter than an airflow-focused case. This is the price that you pay for getting a quiet and calm PC operating.
Silent Base 802 has sound damping solid panels with an Intel Core i5-9600K, which hits 78.1 C°. That's about 5 C° hotter than the other airflow cases, just like the Phanteks Eclipse P600S.
However, 5 C° may not be enough, but every degree matters a lot when you face the hot climate and have to tolerate the roasting summer. However, the Silent Base 802 has optional mesh panels, but it's the exception rather than the standard.
Affordable Budget:
Budget is the most important thing for buying any product. As much you spend on the product, you may get as many features in them. So as with the PC case, before purchasing, there is a need to figure out your budget. After this choose the size which you want to buy for your PC.
When you settle down the size while purchasing a PC case, make sure that your case contains two fans for better airflow. These fans reside on the front and backside of the PC case. So that PC can overcome the heat and remain safe from overheating.
Side Panel Type:
There are two types of side panels used in the cases. The first is the tempered glass panel, and the second is the steel or aluminum side panel. However, the noise difference between both of the panels is not as significant as you may think. The glass panel offers a 1.4 dBA noise from the heavy GPU use.
When we talk about the fans and CPU load noise levels, they cannot be neglected and are more noticeable. 1.4 dBA is noticeable in a quiet room, so we can conclude that the steel panel is accurately best for silence as they have more control over the sound. However, you may not ignore that slight difference while choosing out the quiet PC for a tempered glass side panel.
Drive Capacity:
Always keep in mind the housing space for both 2.5 inches and 3.5 inches storage devices before settling down and buying the silent PC case. Some PC cases come with increased mounting points at the rear of the motherboard tray for SSD drives.
If you want to have a bay of 5.25 inches in front of your case for an optical drive or any other component, it only depends on your requirements, and you can find them in PC cases from some manufacturers.
Cable Management Style:
It is more convenient to have the cut-out at the rear of the motherboard tray for routing the cables. In most quiet PC cases, these holes are on the motherboard tray. But, if we look at the mid-range ones, they offer to have rubber eyelets on the holes as they give neatness to them.
Cooling Mechanism:
When we talk about the noise level, then out of the box, there is no significant difference between a liquid-cooled AIO CPU cooler and a decent air cooler. If your AIO has noisy fans, the AIO might end up being quieter from a company like Noctua or be quiet!.
The PC cases which are on our list decrease the noise. These cases are helpful to absorb any noise from AIO, but at the same time, they are less effective for reducing fan noise. That's why for a quiet AIO, have a look at the speed of the fan. You can solve this problem by setting a custom fan curve, swap the radiator fans for lower-noise equivalents, or do a combination of both.
recommendation
These quit PC cases are good to use as they will help you save from the burst of noise. It looks like a treat when you find the combination of low noise and sound decreasing at one place. This combination will
help you play games and
hit the productivity task without a sound of a jet engine ready to take off.
In this list, the
Fractal Design Define R6
is one of our best silent PC cases, which we recommended without any second thought. This is the best option for you to pick up if you are looking for a mid-tower. But each PC case has its own features to offer, as long as you keep in mind the temperature tradeoffs. All of the cases are cool, and you will remain happy with any of them.