More people tend to gravitate towards the looks of a PC case these days rather than its functionality. There has been a gradual trend from old-school standard aesthetic colors like gray and black to the newer RGB and dazzlingly cool-looking cases. It helps to make your gaming rig stand out from the crowd.
An excellent example of this recent shift is evident in some of the very best white PC cases. These cases look good and provide a safe space for hardware to mount with better airflow. Today's most popular PCs cases are white with a minimalist design. PC cases of the past used to be boring and had very few features, but now they can come with lots of fancy lights and nifty extras to go with them.
It's becoming trendy for people to color-coordinate their computers with their desk setups or even car interiors. Although this trend is still relatively young, white gaming PC cases have become more common than ever. It will only continue to rise in popularity as more people discover how great they look and how fun it can be to customize your own!
5 Best White PC Cases in 2022
We are here to make your decision easier when it comes to choosing an all-white PC case for your new gaming rig. It's common knowledge that the more you know, you can make wise and better decisions. So to help you out, we have decided to narrow down some of the best white PC cases currently available on the market. Upon browsing our choices below, we hope our efforts will aid in making an informed decision before purchasing one of them.
Recommendation
You can get the best white PC cases 2021 to match your new white gaming keyboard or something slightly different. Each of the best white PC cases has something unique to offer. We're confident that this list will include something for everyone, ranging from mid-towers that prioritize quiet to shoebox-sized SFF cases.
If you're especially searching for a white desktop case recommendation, we recommend CORSAIR 7000D Airflow. It is has everything from a robust cooling performance to the full tower spacious build for your components. The aesthetics and functionality rank it top in our charts above all other white PC cases.
CORSAIR 7000D Best White Computer Case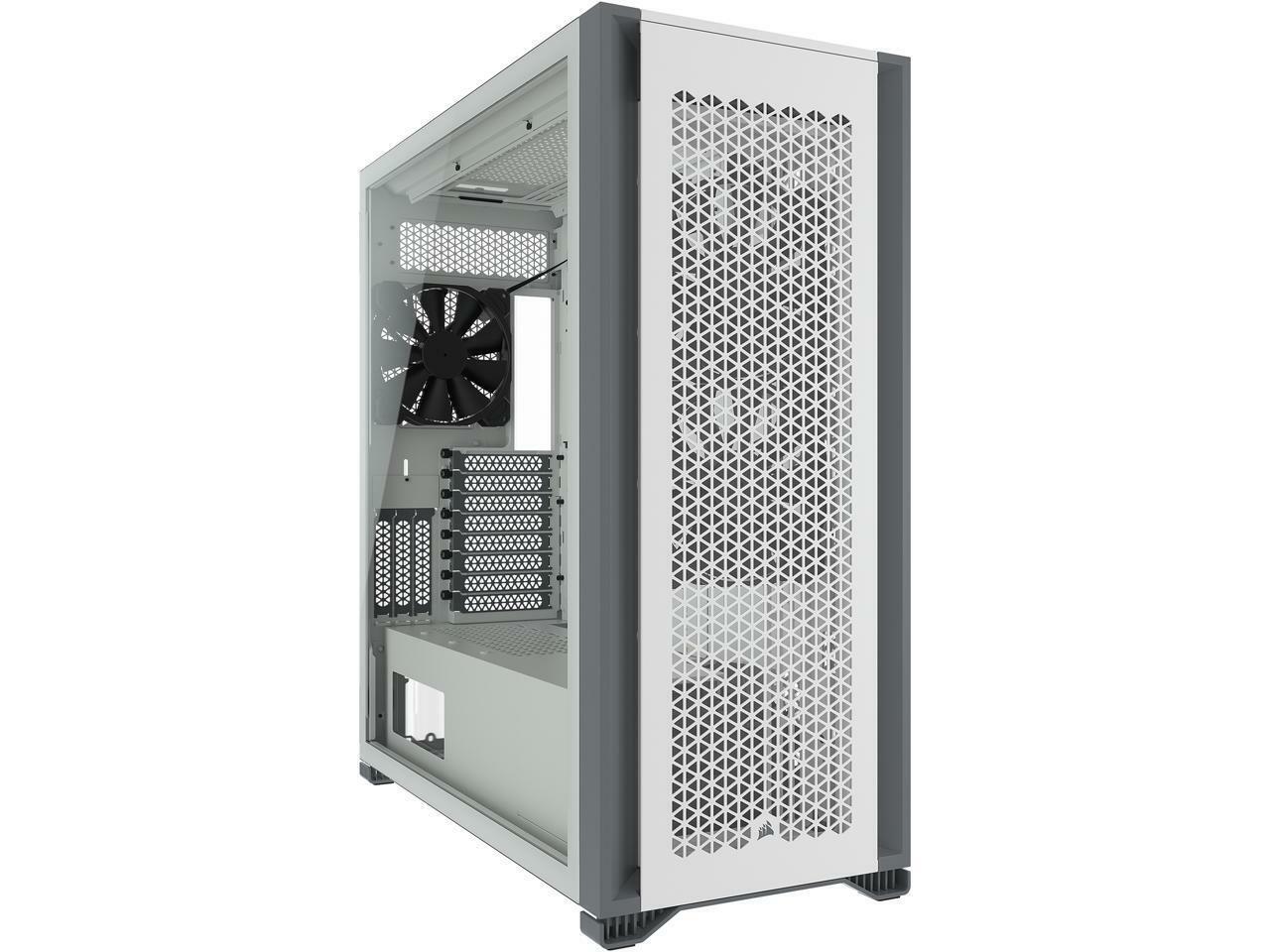 CORSAIR 7000D AIRFLOW Full-Tower ATX PC Case
Last Amazon price update was: August 11, 2022 8:13 PM
Full tower case for ambitious build

Front steel panel optimized for better airflow

RapidRoute hidden cable management system

Anti-vortex vanes for enhanced cooling

Three-slot vertical GPU mount
Specifications
Values
Form Factor
Full Tower
PSU Support
ATX
Motherboard Support
Micro ATX / ATX / Mini ITX / E-ATX
Expansion Slots
11
Front I/O Ports
1x USB 3.1 Type-C
4x USB 3.0
HD Audio In & Out
Fan Mounts
3x 120mm or 3x 140mm (Front)
3x 120mm / 3x 140mm (Top)
1x 120mm / 1x 140mm (Rear)
Drive Mounts
6x Internal 2.5″/3.5″ Combo
4x Internal 2.5″
Radiator Support
Up to 480mm (Front)
Up to 140mm (Rear)
Up to 420mm (Top)
Dimensions (HxWxD)
23.62 x 9.76 x 21.65 Inches
The CORSAIR 7000D AIRFLOW is a white full tower PC case designed for the most demanding builds. It has three 140mm AirGuide fans and an airflow-optimized steel front panel for optimum air intake. Also, the RapidRoute cable management keeps all the connections concealed from view.
At the same time, a large interior allows for various cooling solutions, including up to three 360mm radiators running simultaneously. With substantial expansion options, the 7000 series is one of the most feature-rich full-towers on the market.
Dimensions
The CORSAIR 7000D best white computer case spacious interior, enormous airflow, and clever design create a world of possibilities for unique and memorable constructions. Furthermore, It also has a volume of more than 80L.
The 7000 series has the advantage of being 40-60% bigger than a conventional mid-tower case, providing you with more area to work. Every part of the 7000 Series helps you realize your most ambitious construction, from versatile storage and cooling choices to tool-free swing-out side panels and tidy cable management.
Air Cooling
Three CORSAIR 140mm AirGuide fans with anti-vortex vanes incorporate for focused airflow. The accompanying fans control a PWM fan repeater, which has connections for up to six fans in total. Reduce fan speed to keep your system quiet, or raise it to boost its performance, all using only a single 4-pin PWM connector on your motherboard.
Water Cooling
Of course, a high-end case would be incomplete without decent water cooling support. The Corsair 7000D Airflow excels in running three 360 mm or two 420 mm radiators simultaneously, hence known as one of the best white pc cases for airflow among its competitors.
Design
In addition, these white full tower PC cases outstanding airflow system has two steel high-airflow panels and a strong 4mm thick tempered glass side panel. Also, the graphics card is in the spotlight with this revolutionary vertical GPU mount. This GPU mount is large enough to handle today's most powerful graphics cards while yet allowing for enough
Cable Management
Moreover, the heart of the system is under a detachable, customizable windowed PSU shroud. Remove the panel, apply vinyl graphics, laser-etch your logo, or add illumination to make the rig stand out. You may easily route all of your cables via a single hidden channel with a 25mm broad region underneath the motherboard.
Final Verdict:
The Corsair white PC case is most likely the ultimate choice for a professional seeking a high-end workstation case that can accommodate many multi-terabyte HDDs. Not only is the price prohibitive for most projects, but it also provides far more space than most individuals would ever use. If you have the room, this needs to be on your list for white PC cases ATX for a high-end setup.
Phanteks Eclipse P500A White Mid Tower PC Cases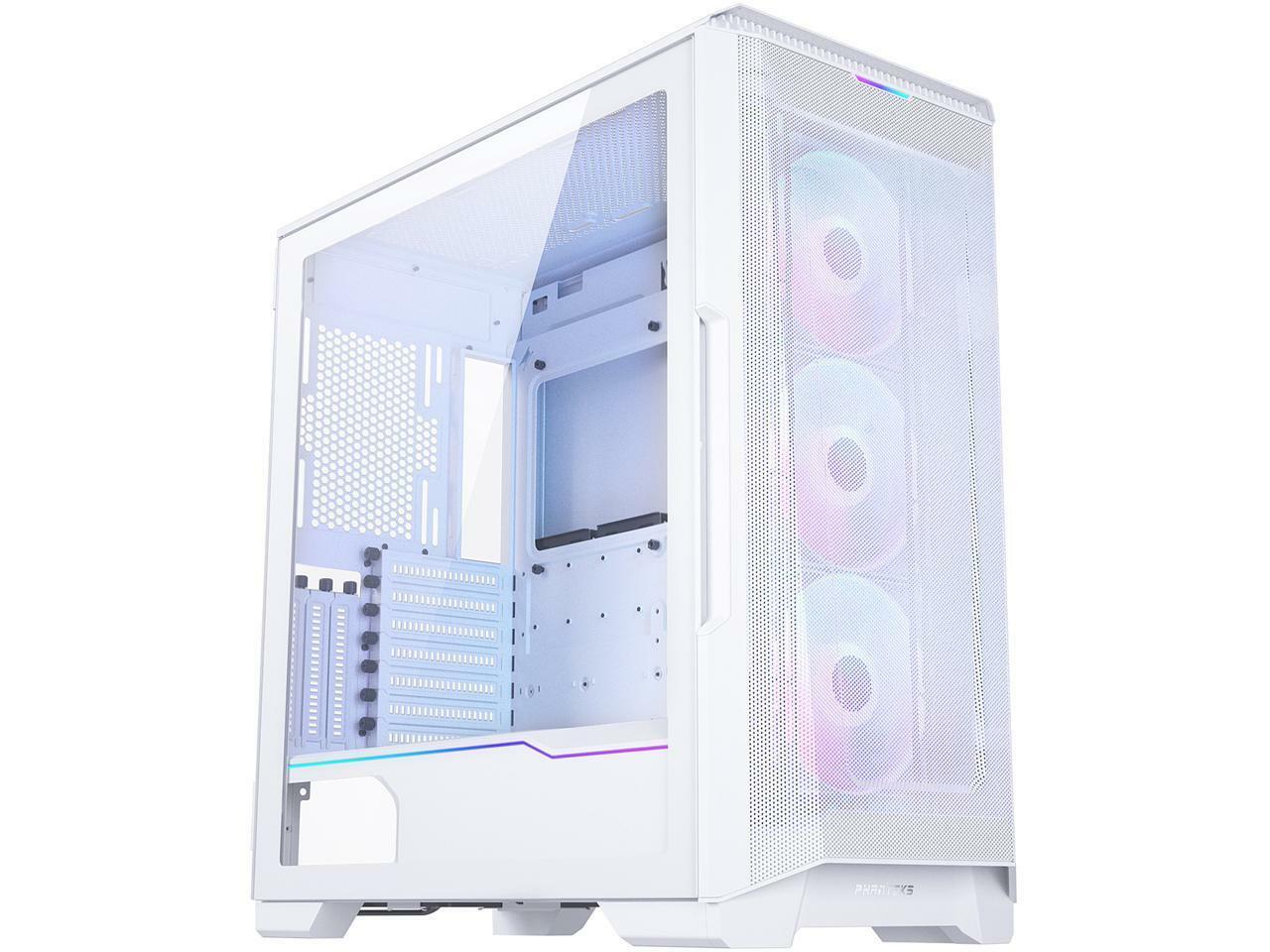 Phanteks Eclipse P500A PH-EC500ATG_DMW01 Matte White Steel / Tempered Glass ATX
Last Amazon price update was: August 11, 2022 8:13 PM
Best optimal front mesh cooling

Open interior for spacious mount

Excessive storage capacity

It supports dual-system

Integrated digital controller for RGB
Specifications
Tested Values
Form Factor
Mid Tower Case
PSU Support
ATX
Motherboard Support
EATX, ATX, Micro ATX, Mini ITX
Expansion Slots
Seven horizontal
Three vertical
Front I/O Ports
1x USB-C 3.1 Gen 2
2x USB 3.0
Audio In/Out
LED mode button
LED color button
Fan Mounts
3x 120/140 mm (front)
1x 120/140 mm (rear)
3x 120/140 mm (top)
2x 120/140 mm (bottom)
Drive Mounts
3x 2.5″ drives
10x 2.5″/3.5″ drives (2x included)
Radiator Support
Up to 360/420 mm (front)
Up to 280/360 mm (top)
120/140 mm (rear)
Dimensions (HxWxD)
20.1 x 9.4 x 20.0 inches
The Phanteks Eclipse P500A is a gorgeous mid-tower case with excellent ventilation. It has a front panel with Ultra-Fine Performance Mesh for maximum ventilation and dust filtering. However, it is big enough to handle a full-sized ATX motherboard and a full-sized graphics card. Using 1 mm perforated sheet steel, the ultra-fine mesh acts as a dust filter for the front intake fans located at the front of the vehicle.
Build Quality
There is a whole mesh panel on the front of the bag that is readily detachable with a simple pull, but it isn't so easy that you have to be concerned about it while carrying it. The "ultra-fine" mesh has perforated metal that is one millimeter thick and serves as a dust filter for the front intake fans.
Mesh Design
While this mesh may not be as effective as some of the fabrics that we are beginning to see certain manufacturers utilize, the airflow is good, a massive bonus for companies that emphasize performance in their products.
Expansion Slots and Storage
At first glance, everything seems to be rather typical horizontal expansion slots and three vertical expansion slots, much as the P600S, which gives you a little more flexibility when choosing your GPU.
Another excellent feature is the anti-sag bracket. This bracket, installed in the back panel and fastened via the rear, is genuinely functional. If you intend on transferring your constructed system, the frame will make a significant impact and should be used for additional support wherever possible.
Dimensions
The Phanteks P500A white mid-tower PC cases have a more roomy interior and provide more cooling support. However, this mid-tower with E-ATX compatibility is only compatible with motherboards up to 280mm wide. Hence, the SSI EEB form factor boards will not fit in here.
Three 120/140mm fans are on the front of the case while there is still room for a radiator up to 420mm in length, with 95mm clearance for thick boys or a reservoir.
RGB Lighting
Phanteks PSU shroud with branding, a cutout to show off your PSU or incorporate a tiny LCD screen, and an integrated lighting strip that looks just stunning are all found at the bottom of the enclosure.
It is one of the best PC cases RGB lighting whose front-mounted power strip shares RGB lighting effects with the ribbon, which may be changed using buttons on the front panel. It's also possible to connect the RGB cables straight to the motherboard and control the lights from there.
Final Verdict:
The Phanteks P500A, on the other hand, is a reliable performer. The mid-tower case market is so diversified that choosing one is tricky. Yet, it is a strong candidate for white gaming pc cases due to its outstanding features, performance, and build quality
Fractal Design Define 7 All White PC Case
Fractal Design Define 7 White Brushed Aluminum/Steel E-ATX Silent Modular Tempered Glass Window Mid Tower Computer Case, White TG Clear Tint (FD-C-DEF7A-06)
Last Amazon price update was: August 11, 2022 8:13 PM
Easy to open magnetic latches

Dual layout interior

Reversible dual-handled hinges

Industrial grade sound dampening

Versatile new multi-bracket
Specifications
Featured Values
Form Factor
Mid Tower Case
PSU Support
ATX
Motherboard Support
EATX, ATX, Micro ATX, Mini ITX
Expansion Slots
Seven horizontal
Two vertical
Front I/O Ports
1x USB-C 3.1 Gen 2
2x USB 3.0
2x USB 2.0
Audio In/Out
Fan Mounts
3x 120/140 mm (front)
1x 120/140 mm (rear)
3x 120/140 mm (with ventilated top panel)
2x 120/140 mm (bottom)
Drive Mounts
4x 2.5″ drives (2 by default)
14x 2.5″/3.5″ drives (6 by default)
1x 5.25″ optical drive
Radiator Support
Up to 280/360 mm (front)
Up to 360/420 mm (top)
Up to 240/280 mm (bottom)
Dimensions (HxWxD)
18.8 x 9.4 x 21.5 inches
The Fractal Design Define 7 is a white mid-tower PC case with two different internal layouts: "open" and "storage. The open design is similar to that of many modern mid-tower ATX cases on the market today. It is unique in our white PC cases review in terms of all-white color.
Build Quality
The casing is raised roughly half an inch from the ground thanks to the four substantial rubber-coated feet. The tempered-glass side panel connects to a metal frame, which avoids the need for rubber-coated locating pins or hinges on the other side of the panel. A latching mechanism with a push-to-lock button secures the panel securely in place.
Design
Its flexible interior arrangement and removable panels distinguish it from the competition, in addition to its distinctive silence-focused design. This case is exceptionally long for a mid-tower.
Storage
It has 3.5-inch hard drive mounts located beneath the power supply tunnel, while a couple of SSD mounts are under the motherboard tray in the main chamber, which is accessible from the front.
Storage mode allows installing up to 14 hard drives in the chassis by relocating a piece of the hard drive tray to the other side of the chassis and inserting the extra hard drive trays that come with the accessory box.
Liquid Cooling
On the other hand, the length is critical to Define 7's adaptability since it provides customers with adequate room for either storage-intensive or cooling-intensive architectures. The cooling configuration has a good area for nine fans or two 360 mm radiators running simultaneously and a significant 230 mm liquid cooling reservoir.
Air Cooling
The Fractal Design Define 7 best white PC cases also have a detachable top that allows simple access throughout the construction or upgrade process. In addition, the standard solid top panel comes with a vented one, which enhances ventilation and adds three fan mounts to the system.
The exhaust fan mounting site has slotted screw holes, which allow you to alter the fan's position to fine-tune airflow or create a place for other system components, depending on your needs.
Fan Noise
A noticeable feature is the noise performance, with noise going from a whisper-quiet 34.6 dBA to a more detectable 38.9 dBA. Still, it is a convenient interim solution if you are executing a CPU-intensive job.
Filters
This clean white PC case has large plastic mesh filters covering the whole bottom of the chassis, and they are easily removable from the front. The filter protects two mounting places for 120mm or 140mm fans and the aperture for the power supply fan.
Versatility
There are two options for the Define 7's side panel: either tempered glass or a solid panel. It doesn't make any difference in performance. Thus it's more an issue of aesthetics than anything else. The sturdy side panel variant is somewhat less expensive, but only by around $10.
Final Verdict:
Overall, the Fractal Design Define 7 is a top-tier white mid-tower PC case with the exceptional build quality and aesthetics while reasonably priced. Temperature monitoring will be necessary, but the plethora of fan mounts and liquid cooling choices will make it easier to keep an eye on things. Its white CPU cabinet makes it more aesthetically pleasing for the builders.
CORSAIR CRYSTAL 280X Best White mATX Case
CORSAIR Crystal 280X RGB Micro-ATX Case, 2 RGB Fans, Lighting Node PRO Included, Tempered Glass - White
Last Amazon price update was: August 11, 2022 8:13 PM
Stunning three panels tempered glass

Excellent backdoor cable management

Dual-chamber spacious layout

Dedicated storage spaces

Extended filter system
Specifications
Values
Form Factor
Micro-ATX Case
PSU Support
ATX
Motherboard Support
Micro ATX, Mini ITX
Expansion Slots
4
Front I/O Ports
2x USB 3.0
Audio In/Out
Fan Mounts
2x 120/140 mm (front)
2x 120/140 mm (top)
2x 120/140 mm (bottom)
Drive Mounts
2x 3.5″ drives
3x 2.5″ drives
Radiator Support
Up to 240 mm (front)
Up to 280 mm (top)
Up to 280 mm (bottom)
Dimensions
15.7 x 10.9 x 13.8 inches
The 280X takes the finest of Corsair's line and bakes it into a new form of the venerable white micro ATX case architecture, giving it an entirely new look and feel. With the addition of tempered glass to the front panel, roof, and side panels, there's no doubting how elegant it now seems to be. When misused, the tempered glass may severely limit airflow. However, Corsair 280X seems to have avoided this problem to a significant degree.
Design
In contrast to the front intake fans, the front panel is an excellent single piece of glass and plastic with around 20mm of space between it and them. When looking up to the roof, a series of spacers elevate a single pane of glass. In addition, the dust filter intends to give plenty of extra airflow for the exhaust fans you'll be installing.
Air Cooling
The Crystal 280X RGB comes pre-installed with two Corsair LL120 fans, which are of the highest quality. It also has a dual-chamber architecture, which isolates the power supply and storage from the rest of the heat-generating components in your computer system.
With no drive cages in the main compartment, airflow to essential features like your GPU and CPU increases, which Corsair terms "Direct AirflowTM Path Cooling," described by the company. Furthermore, Crystal 280X is a white pc case with RGB fans, one on the front and the other on the roof, helping keep things cool in the 280X.
Storage
In terms of storage, the back compartment accommodates two 3.5-inch drives accessible by a tiny honeycomb door found at the back of the case, near the rear I/O, and three 2.5-inch drive bays at the front of the case.
You may also install an extra 120mm fan on the backside panel, which is likely to be used to bring cold air into the system to cool the 3.5-inch hard drives. A full-size ATX power supply is required.
Final Verdict:
While searching for a white micro-ATX case, the Corsair Crystal 280X RGB is the most capable case you'll come across. It also happens to be the most affordable. The cooling performance is good, and the design is beautiful. However, it is a pretty wise choice for this best white mATX case, which is quite Reliable and robust on top of it all.
Cooler Master MasterBox NR200P Best Budget White PC Case
Cooler Master NR200P White SFF Small Form Factor Mini-ITX Case with Tempered glass or Vented Panel Option, PCI Riser Cable, Triple-slot GPU, Tool-Free and 360 Degree Accessibility
Last Amazon price update was: August 11, 2022 8:13 PM
Full display side panel

Extra mounting for cooling fans

Impressive clearance for internal components

Tool-free panel removal and installation

High-speed connectivity at I/O panel
Specifications
Tested Values
Form Factor
Mini ITX Case
PSU Support
SFX, SFX-L
Motherboard Support
Mini-ITX
Expansion Slots
3
Front I/O Ports
2x USB 3.1 Gen 2
Audio In/Out
Fan Mounts
2x 120 mm (top)
1x 92 mm (rear)
2x 120 mm (bottom)
2x 120/140 mm (vented side panel)
Drive Mounts
3x 2.5″ drives (2 included)
2x 3.5″ drives (1 included)
1x 2.5″/3.5″ drive
Radiator Support
92mm (rear)
Up to 240 mm (bottom)
Up to 280 mm (side)
Dimensions (HxWxD)
11.5 x 7.3 x 14.8 inches
The MasterBox NR200P integrates features generally seen in elegant, high-end ATX cases and smartly applies space-saving methods to this white PC case build, as a chassis takes up less than half the capacity. Every function is painstakingly planned out to promote component compatibility, thermal efficiency, and simplicity of assembly.
Dimensions
It can fit massive graphics cards in the 3-slot capable NR200P or use the two vertical cards slots with the accompanying PCI riser to turn graphics cards and heads by making the GPU the focus of the PC.
In addition, seven potential fan mounts, adequate ventilation, and substantial liquid and air-cooler clearances keep even the most potent systems functioning at their optimal temperatures and speeds.
Build Quality
The chassis structure is a sleek and stylish powder-coated steel chassis that makes a statement on a desk. The NR200P incorporates several features seen in more oversized ATX chassis while preserving a space-efficient form factor.
These can be vented steel panels for better airflow or clear tempered glass panels to show off the computing beast. PCI Riser also allows you to install your graphics card vertically—a feature that might appeal to gamers but is nonetheless useful for anyone who wants their machine to look sleek and attractive.
Cooling
The NR200P best white PC cases can hold up to 7 fans in total for any cooling arrangement possible. The small frame of the case can accommodate CPU coolers up to 155mm in height and radiators with a radiator width of up to 280mm, helping even the most hardcore components run cooler.
Furthermore, triple-slot GPUs come with a maximum length of 330mm and maximum width of 156mm, permitting the fitting of massive high-end graphics cards. It comes with a custom riser cable that allows for the radiator placement at the bottom. It is also attached to the graphics card vertically and lets the system operate without temperature rise.
Tool-Less Installation
All of the exterior panels of this chassis, including the tempered glass and top-mounted fans, are held with pins for simple removal. The internals is easier to access as there is no need to use the tools to remove the panels.
Every panel and frame portion of the NR200P is easily detachable. Screws secure the frame pieces to enable enhanced disassembly and varied angles to operate efficiently inside the chassis.
Clearance
The PSU may be front-mounted for increased motherboard clearance with a maximum space of 244 x 226 mm. Also, the newly Optimized blade design with an updated curve gives an optimal balance between airflow 62cm and static pressure 2.5mm H2O to remove the heat away while staying exceptionally silent.
Final Verdict:
A small ITX container with just 18 liters of space, the NR200P is ideal for small systems. Even though it is not very large, it should wow with its excellent cooling and high hardware compatibility level. The Cooler Master NR200P is the best budget white pc case than many comparable chassis and ranks tall among the best cheap white pc cases.
Best White Computer Case Purchasing Guide
When selecting the best white PC cases, it's crucial to consider where you'll be placing your computer since each case is available in a variety of different configurations. However, before acquiring a white PC case, consider the following factors.
Size of the case
You should also be aware of the kind of power supply you'll be utilizing for the PC case, as well as the types of components you'll be putting in it. Knowing all of this information before purchasing may make selecting a white PC case much more straightforward.
When it comes to size, there are three primary types to choose from: mini-ITX, micro-ATX, and full-sized ATX.
Mini-ITX White PC Case:
Mini-ITX white PC cases are the minor cases available, making them an excellent choice for individuals on a tight budget. They're also tiny enough that they may be stacked together to conserve room when not in use.
But since mini-ITX enclosures only accommodate one hard drive and a single optical drive, it may be a bit more challenging to put up a custom computer system out of modular components from Phanteks that you can link together.
Micro-ATX White PC Case:
Even though micro-ATX white PC cases offer almost the same space as conventional ATX cases, they are still smaller than mini-ITX cases. They feature enough space for one or two hard discs, two optical drives, two 3.5′′, and two 2.5′′ drives, as well as plenty of room for extra hardware or anything else you would want to put in your computer.
They're also very configurable, which makes them a good choice for folks who aren't acquainted with the process of making their computers.
Mid-Tower White PC Case:
ATX white PC cases are the most popular kind, and they are available in two distinct sizes of standard and deluxe. Alternatively, if you intend to add a large number of hard drives to your system, the smaller version will be ideal since it has lots of internal drive bays to accommodate all of these drives.
Mid-tower ATX PC cases might be the most acceptable option for casual users and those who play games daily.
Full-Tower ATX White PC Case:
A full tower is at least 22 inches tall to be considered complete. However, the width and depth vary significantly from manufacturer to manufacturer. Although full-towers are not for home users, they are the preferred configuration for enthusiasts and custom designs. Keep in mind that there are no industry-wide standards for whole tower proportions, which means that all of the specs might vary.
Hardware Consideration
Considering hardware includes components like fans and hard discs and the color of the PC case you wish to use in your system. Also, keep in mind that you may utilize the white PC case itself to match the rest of your computer's components, making it seem more coherent and well-put-together.
For example, if you pick a colorful casing, you will not have to purchase as many extra fans or hard drives as you would otherwise. You may utilize this casing as a starting point and buy just the components you need for your systems, such as the CPU and video card. Apart from that, various additional features are compatible with this white PC box, including LED lighting kits from Phanteks.
Build Style
It's possible to customize your white PC case with any number of various designs and styles. Mesh, tempered glass, and brushed metal are among the most common types of window treatments.
Mesh-Style White PC Case:
Mesh-style cases are typically accompanied by covers that have holes in them to allow air to circulate through. These cooling solutions are ideal for users who like all-in-one cooling solutions. They eliminate the need to utilize fans and liquid cooling systems, enabling both to function simultaneously.
Tempered Glass White PC Case:
Tempered glass variants enable users to view their hardware without the need to remove anything from their clothing or bag. They're the most incredible option for folks who seek something straightforward and uncomplicated to use. If you want something customized, a white PC case with a mesh design may be a better option for you.
Brushed Aluminum Model:
Brushed metal variants are ideal for those that like something basic and uncluttered in their design choices. It is the perfect option for individuals who want a straightforward and timeless style.
Considering the Ports
When shopping for a white PC case, it is essential to examine the number of ports accessible for all of your devices. For example, having sufficient ports is vital to connect many hard discs to your system. A single port may be present in certain circumstances, while multiple may be present in others.
Additional Features
Once you've determined the precise size of the room in which you'll be working, it's time to think about whether or not you'll need any more gear. Among the items included are components like fans and hard drives and the color of your computer chassis. Remember that you may utilize the white PC case itself to match the rest of your computer's components. It results in a more coherent and well-put-together overall appearance.
For example, if you pick a colorful casing, you will not have to purchase as many extra fans or hard drives as you would otherwise. You may utilize the casing as a starting point and buy just the components you need for your systems, such as the CPU and video card.
Budget
When choosing a white PC case, price is crucial, particularly if you're on a tight budget. Purchasing a less expensive white PC case can save you both time and money since it will make it easier to put up your system.
However, you should ensure that it is a high-quality white PC case that will last for an extended period. Some best white PC cases under 100 are available in the market, but they have non-reliable build quality.
Warranty
Make sure to always take a good look at the warranty before buying your white case because it will come in handy when you encounter problems with your system over time. Not all models have equal craftmanship. Some feature better warranties than others. If that's important to you, then you should investigate further before making a purchase.
Furthermore, keep in mind that these warranties come with a few conditions you will need to comply with. You will need to send the case back to the manufacturer to work on it if there are any problems and figure out the warranty coverage.