Once you have decided on the components you plan to use for the rig, a good PC case is required to house them. There are many form factors for cases that are suitable according to the requirements. If you need a compact build, the best smallest ATX cases are the right choice. These cases offer plenty of room for the components while still managing the compact size.
However, you need to be certain about the components first before selecting small full ATX cases. The selection part is crucial as these cases are not the ones that can handle anything that you throw inside them. Choosing the right size is the most important factor for buying ATX cases. Besides that, the aesthetic, airflow, build quality, and pricing are the factor that can affect your buying decision for the best small ATX case.
Top 5 Smallest ATX Computer Cases
You have already got familiar with the requirements for buying the best smallest ATX cases for your next build. But the problem stays there, especially for newbies who choose the right one from countless options available in the market.
We have tested the smallest ATX computer cases and evaluated them against specific criteria to facilitate your decision-making. In the end, we have chosen a small form factor ATX case that can fit everyone's needs.
NZXT H510 Smallest Gaming Case
NZXT H510 - CA-H510B-W1 - Compact ATX Mid-Tower PC Gaming Case - Front I/O USB Type-C Port - Tempered Glass Side Panel - Cable Management System - Water-Cooling Ready - White/Black
Last Amazon price update was: August 12, 2022 6:16 AM
Clean and modern design

Single screw installation

Streamlined airflow and cooling

Enhanced cable management

Simplified liquid cooling system installation
Specifications
Values
Form Factor
Mid Tower
PSU Support
ATX
Motherboard Support
ATX, Micro ATX, Mini ITX
Expansion Slots
7
Front I/O Ports
2x USB 3.1
HD Audio In & Out
Fan Mounts
1x 120mm, 1x 140mm (top)
2x 120mm, 2x 140mm (front)
1x 120mm (rear)
Drive Mounts
3x Internal 3.5″
3x Internal 2.5″
Radiator Support
2x 140mm (front) , 1x 120mm (rear)
Dimensions
16.85 x 8.27 x 18.11 inches
There are many best smallest ATX cases in the market, but NZXT H510 is the best choice that you can buy. It has several features that make it the best among the competition. The cable management, streamlined cooling, and simplified design add more to its value. It supports all the motherboards except E-ATX and allows the gamers to set their desired build without sacrificing the components.
Simplified Design
NZXT H510 is the most durable and sturdily built full ATX slim case available in the market. There are other sturdy cases available in the market, but no one is near the quality and finish we get in the NZXT case.
This Mid Tower Case is extraordinary with simple features such as it has a durable body, easy to set up, and has a good airflow ability. One of the most important things which makes it more prominent is the thick metal panel that makes the case sturdier and more durable.
Premium Build Material
NTXZ H510 case is as glossy as its ancestors, with a premium matte black and grainy finish similar to its predecessors. This color may attract dust and also cannot hide the scratches. However, it is better than other similar options and competitors.
The exclusive NZXT H510 case model comes equipped with transparent front tempered glass that shows the RGB fans. However, this smallest gaming case has a clean, minimalistic metal plate design that is not inferior to the glass model.
Airflow Components Support
The NZXT H510 comes with the best airflow system. These cases are equipped with two 120mm Aer fans, ensuring that the components don't get overheated. When we look out the formation of the airflow, its design looks out of the box.
It is relatively easy to monitor the dust building up between the frames' gaps, perfect for easy cleaning. Moreover, these frames have a removable bracket for radiators up to 280mm. These brackets help the process of installation of custom-loop or close-loop for the water-cooling system.
Removable Filters
When we talk about the best airflow, then we should expect dust to build up. The dust from the environment can build up inside removable dust filters. This makes the process simple and also makes the installation of the radiator easy. Furthermore, these filter ensures less maintenance for the internal components by blocking the dust.
Multiple Connectors
USB-C type connecter is standard in cases nowadays, and the NZTX is no exception. This USB connector resides on the front side of this case, making it easier to access and plug your USB device without much hassle. You can easily attach the USB, phone, or gaming headset to your computer without dragging the case from under your desk.
Cable Management
There are not any unwanted cutouts pieces like rubber grommets. Except for this, you will find a large cable that smartly connects with the NZTX cable bar. These cable bars not only perfectly conceal the cables but also act as additional space.
This kind of cable management can reserve space for a water cooler, and if you need more space in H510, you can remove these cable bars without any problem.
Mid-Tower Looks
NZTX H510 is a sturdy and solid case, just like its predecessors. It is reliable and uses robust materials for the manufacturing of the case. If you want to install some extra fans and AIO, it is the best choice to have an H510. Everything from water cooling to budget building looks great inside NZTX. it is a real mid-tower for all.
Cooler Master Box Q500L Lightweight Computer Case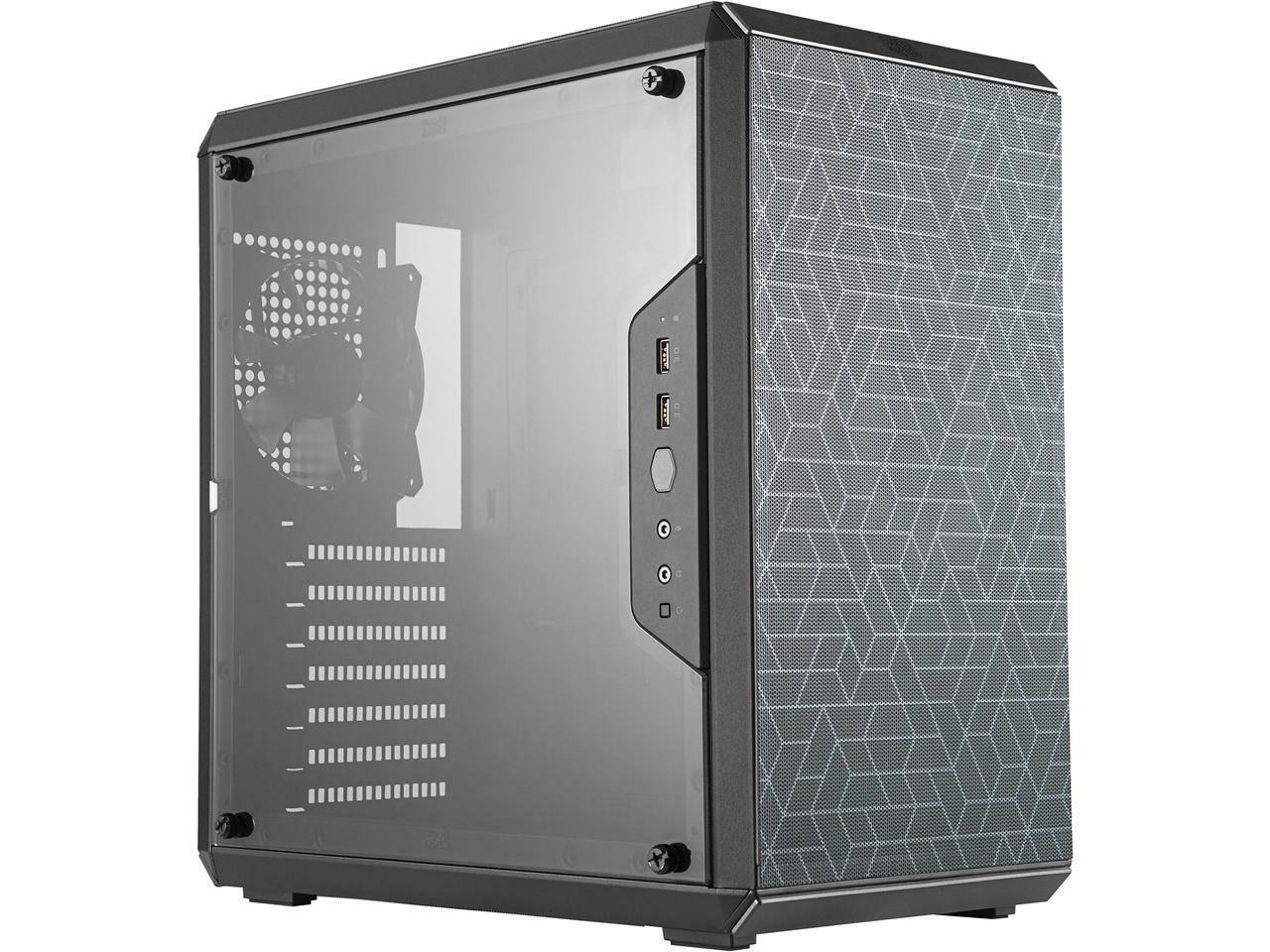 Cooler Master MasterBox Q500L Mid Tower w/ ATX MB Support, Magnetic Dust Filter,
Last Amazon price update was: August 12, 2022 6:16 AM
Minimized dimensions for a smaller footprint

A fully perforated case for airflow

Easy to place horizontally and vertically

Versatile I/O panel

Vertical PSU mounting
Specifications
Tested Values
Form Factor
Mini Tower
PSU Support
ATX
Motherboard Support
ATX, Micro ATX, Mini ITX
Expansion Slots
7
Front I/O Ports
2x USB 3.0
HD Audio In & Out
Fan Mounts
2x 120mm, 1x 140mm (top)
2x 120mm (bottom)
1x 120mm (rear)
Drive Mounts
2x Internal 3.5″/2.5"
2x Internal 2.5″ or 1x Internal 5.25″
Radiator Support
120mm or 240mm (top) , 120mm (rear)
Dimensions
15.2 x 9.1 x 15 inches
The MasterBox Q500L ranks top among the best smallest ATX cases that offer all the features at a budget price. This case is best for game enthusiasts and custom rig builders on a budget. You can install custom fans and radiators to get a satisfying computer build while containing the space taken by the case to a minimum.
PC Case Dimensions
The Cooler Master MasterBox Q500L is 15.19″ x 9.5 x 15 inches in dimensions. The weight of this case is 8.4 pounds which is considerable. Q500L is the solid ATX frame that contains a compartment that can handle all of the components you wish to throw in it.
Moreover, the frame is surprisingly clean, roomy, and airy. MasterBox has enough space for various system builds and comes with coolers as tall as 160mm.
Frame Strength
This small desktop PC case has a geometric design and may add some flashy appearance to it. Furthermore, it is a simple straight frame in shape. You can quickly reveal interior parts and panels by removing their magnetic cover. The side of the panel is acrylic which we have not noticed in other PC cases.
Storage Containers
Storage of the casing shows how many drives you can attach or connect to the case at a time. The removable hard drive tray contains two SSDs or may have a single 3.5″ hard drive. There are some other holes for the connectivity of drives two 3.5″ or four 2.50″ SSDs in secondary.
The storage capacity may seem limited as they are the smallest ATX cases. It can support a pair of SSD in a RAID and a 3.5″ spinning disk for storage.
Better Airflow Setup
The MasterBox Q500L can rope at least five 120mm fans that exist two in the top, two in the bottom, one in the rear, and supports up to 140mm fans in the top. But if we talk about the MasterBox, it only contains a single 120mm fan at the rear.
But in our recommendation, only one fan is not enough for cooling the system's components. At least one intake fan need in any frame for better airflow. To our luck, these cheap cases offer enough room in your building budget to add an extra fan.
Liquid Cooling
The liquid cooling PC cases are preferable due to their better cooling process. Radiators and all-in-one coolers are mounted only on the top and rear sides of this frame. The rear mounting supports 120mm fans while the top radiators and AIO coolers have up to 240mm.
Cable Management
The motherboard tray has almost four pass-through holes in it. It depends on the size and position of the cable that the management holes can block by a power supply. The hole present at the upper edge routes fan cables and the ATX12V/EPS12V power cables.
This lightweight computer case has connections for ports at the front, which enables regular usage connections. The movable I/O panel has two USB 3.0 ports, headphone and microphone jacks, a hard drive activity LED, and a power and reset button.
Power Supply
MasterBox Q500L mid-size PC cases support power supply up to 180mm as identified by the manufacturers. But still, we found that these PC cases easily support a power supply up to 200mm in length without any problem. You can install this power supply at the front and the bottom of the case when using a mini-ITX system.
Corsair Carbide Series Air 540 Cool ATX Cases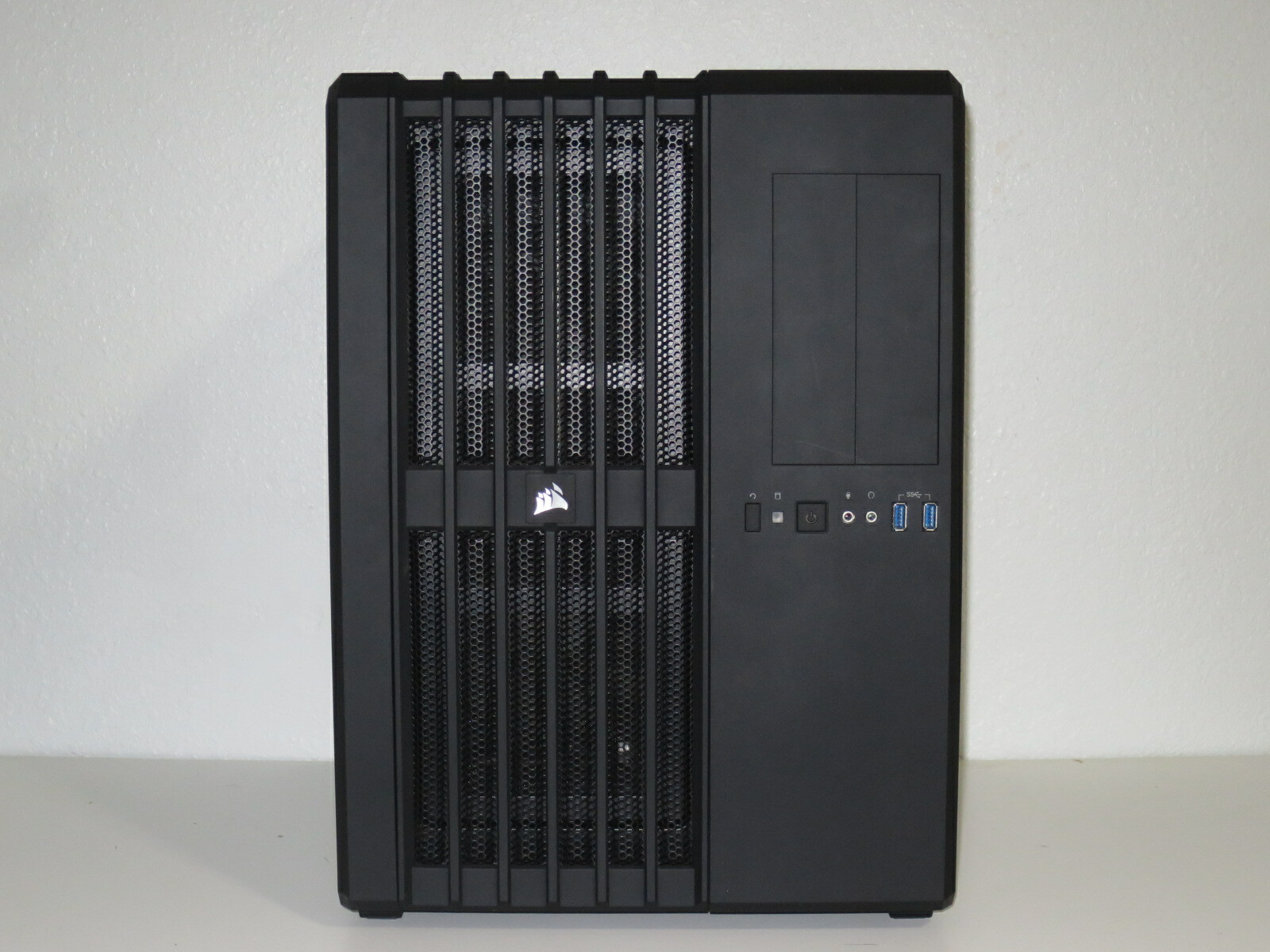 Corsair Carbide Series Air 540 CC-9011030-WW Black Steel High Airflow ATX Cube
Last Amazon price update was: August 12, 2022 6:16 AM
Outstanding cooling potential

Dual-chamber excellent airflow

Spacious drive bays for storage

Eight expansion slots

Rubber grommet cable routing cutouts
Specifications
Featured Values
Form Factor
Mid Tower
PSU Support
ATX
Motherboard Support
ATX, Micro ATX, Mini ITX, E ATX
Expansion Slots
8
Front I/O Ports
2x USB 3.0
HD Audio In & Out
Fan Mounts
2x 120mm, 2x 140mm (top)
3x 120mm, 2x 140mm (front)
1x 120mm, 1x 140mm (rear)
Drive Mounts
2x Internal 3.5″
4x Internal 2.5″
2x 5.25″
Radiator Support
280mm (top) , 360 mm (front)
Dimensions
16.3 x 13.1 x 18 inches
Corsair Carbide Series Air 540 is the best compact ATX case with a dual-chamber design. This unique design hold motherboard up to E-ATX and a 3.5″ HDD bay on the left side. Right chamber holds all other components, including PSU, SSD bays, and 5.25″ drive bays. The separation of chambers makes the cable management easier while housing for more components and airflow.
Premium Design of Form Factor
The Carbide 540 Air has a premium design with front mesh at the front. Behind this vent, there is a two-chamber design that has a separate compartment for different components. It can house an Extended ATX motherboard with space for proper airflow and cooling system.
The design shows a beautiful contrast to the modern problem-solving layout best suited for gamers. It allows mounting two 5.25″ drive bays which shows how spacious is the internal chamber. Besides that, the lined-up I/O with the Corsair logon makes the whole setup unique.
Cooling and Airflow
Corsair utilizes dual chamber design and Direct Airflow Path to provide cooling to the internal components. This design is unique because it equally transmits the airflow and ventilation without any obstruction from the power supply or motherboard.
Carbide Series 540 is among the cool ATX cases that provide a low-maintenance cooling system. It includes 140mm intake and exhaust fans for better airflow. The Corsair Air Series AF140L fan comes pre-installed in the casing, which provides maximum airflow performance while remaining silent in operation than other fans.
Mounting Space
There is fairly a lot of space inside this compact ATX case for mounting different components. It has included two 3.25″ drives, four 2.5″, and two 5.25″ drives for elevated storage. Besides that, it can mount six 120mm fans or 280mm top and 360mm front radiator. It is the smallest EATX case with all these features and unique airflow design in the market.
Tool-Free Installation
You don't need an expert to handle the mounting and installation of components inside the Corsair Carbide 540 air case. It only takes a little knowledge to get the mounting done as it offers tool-free installation. You can build the rig fast without dealing with complex cable management and using tools.
The storage and PCI-E installation are like a breeze, while there are two hot-swap drive bays for more convenience. They allow quick assembly, maintenance, and upgrade. The oversized front tinted mount is such a delight to show off your build to others.
Cable Management
With the unique dual chamber design, cable management is easier than ever in Carbide Series 540 Air ATX. It has a separate chamber for the motherboard and other components that allow easy cable management. Power allows stash cabling, and the drive bays display intelligent orientation that won't bend the power leads.
Power Supply Mount
Corsair 540 Air smallest ATX tower uses tool-less power supply mounting. The bracket at the bottom of the case allows mounting for the power supply. If you don't want to install the power supply without tools, you can utilize the holes in the case's back. It allows mounting space for PSU by manually screwing.
Fractal Design Meshify C Best Mini Tower Case
Fractal Design Meshify C Mini -Compact Mini Tower Computer Case -mATX Layout -Airflow/Cooling -2X Fans Included -PSU Shroud -Modular Interior -Water-Cooling Ready -USB3.0 -Tempered Glass -Blackout
Last Amazon price update was: August 12, 2022 6:16 AM
Capacity similar to the larger tower

Unparalleled cooling performance

Angular mesh front panel

Flexible storage options

Easy to clean filters
Specifications
Values
Form Factor
Mid Tower
PSU Support
ATX
Motherboard Support
ATX, Micro ATX, Mini ITX
Expansion Slots
7
Front I/O Ports
2x USB 3.0
HD Audio In & Out
Fan Mounts
2x 120mm, 2x 140mm (top)
3x 120mm, 2x 140mm (front)
1x 120mm (rear)
1x 120mm (bottom)
Drive Mounts
2x Internal 3.5″
3x Internal 2.5″
Radiator Support
360mm (front) , 240mm (top), 120mm (rear)
Dimensions
16.1 x 8.54 x 17.72 inches
Meshify C shows remarkable performance and design, earning it an aggressive rank among the Fractal Design lineup of PC cases. It is among the best smallest ATX cases that contain a 360mm radiator which allows plenty of air so that the components will remain cool, but this PC build is slightly noisy.
Architectural Design
Meshify C case follows the same design and layout that most mid-tower cases for PC uses. The mesh front panel is an exception in this case. It is a premium upgrade on competitors, yet you can configure it with or without a transparent tempered glass panel.
The Fractal Design Meshfiy C is one of the excellent value PC chassis with good architecture. This case has a stream-high airflow design, and an angular mesh front panel maximizes air intake. Unlike a small ATX case with a handle, it has a minimalistic design.
Black Metal Quality Finish
The Fractal Meshy C case is solid, well made, and carefully designed. The front panel is black metal mesh backed and also contains a thin foam and plastic frame. The foam work as a filter, and its purpose is basically to prevent the dust that can choke the components in the open case design.
Capacity for Installations
The capacity of this case differs from the other case as it can accommodate the ATX motherboard while the other mid-tower cases can take E-ATX boards. There are at least seven PCI slots for extension, three 2.5 inch bays, and two 2.5 inch or 3.5-inch bays with the removable bracket. There is extra space that you can install seven fans, allowing for a super-cooled PC.
Radiator Support for Airflow
The system of airflow, in this case, is extraordinary. It will become a perfect choice for you if you want optimal airflow in your case. However, this case has a 360mm radiator for a CPU AIO installed upfront and has a single 120mm fan below. It can easily handle exhausting all the heat so that components remain cool.
The fractal design allows for the 240mm radiator on top and a 360mm radiator on the front panel. The radiator that is on the front panel requires HDD cage removal. There are some filters at the top, front, and bottom panels to prevent dust from getting into components.
Noise Control Levels
Due to the open design of this case, the noise levels can get high at some moment. This is a little bargain that you do when looking for better airflow. The sound of the fans is still bearable and does not reach annoying levels. However, you will not get the silent fan experience that you usually get with the closed-cased models.
Lian-Li O11D Dynamic Mini Full ATX Slim Case

Lian-Li O11 Dynamic Mini ATX Mini-Tower Case, Snow White #O11D MINI -S
Last Amazon price update was: August 12, 2022 6:16 AM
Water cooling potential

Optional Vertical GPU back panel

Dual-chamber attractive design

Exquisite appearance with brushed aluminum

Complete dust protection
Specifications
Tested Values
Form Factor
Mid Tower
PSU Support
ATX
Motherboard Support
ATX, Micro ATX, Mini ITX
Expansion Slots
7
I/O Ports
1x USB 3.1
2x USB 3.0
HD Audio In & Out
Fan Mounts
3x 120mm, 2x 140mm (top)
2x 120mm, 2x 140mm (side)
3x 120mm, 2x 120mm (bottom)
1x 120mm (rear)
Drive Mounts
2x Internal 3.5″
2x Internal 2.5″
Radiator Support
360 mm (top) , 280 mm (side), 360mm (bottom)
Dimensions
18 x 15 x 21 inches
Lian-Li O11D Dynamic Mini is a case with a surprising combination of classic and modern looks. It can accommodate the maximum number of water cooling configurations due to its dimensions. Among all the best smallest ATX cases, 011D Mini is more spacious and has a glass design to showcase the build to your friends.
Build Quality
The Li O11 Dynamic Mini is a sturdy and reliable best mini-tower case. It has transparent tempered glass panels on both the front and side of the case. These panels showcase the interior and components for better aesthetics. The other side of the external panel has brushed aluminum construction to block the view and provide solid build quality.
Motherboard Support
If we talk about the default setting of Lian-Li O11D Mini, it can house an ITX motherboard. But there is no need to worry about the size. Because the case has extension brackets, you can adjust them according to the larger motherboard you want to install.
You only have to fix some screws to increase the surface area for larger motherboards. Even you can adjust Micro ATX or ATX board with this case.
Spacing for Expansion
There are two 3.5 inches bays with a metal tray included in the bottom half of the case. There are also seven expansion slots included next to them. These slots have three groups. The top three are for the bigger back panel, and the remaining two groups below them are removable.
There is a lot of space next to these that you can easily install other components even if your GPU is extra large and you have a big block with lots of tubing.
Perfect Cable Management
Cable management in any kind of case plays a vital part in nailing or failing the product. The O11D is not the case that leads to a routing guide. It gives you a lot of space to manage all of your clutter inside. You can manage all the cables inside the case and even no more junk of cable in front of you to see as you can keep them inside and close the cover.
Can Install Air Cooling
For cooling purposes, you can install lots of fans in PC-O11D. You can fit three 120mm fans at the bottom of the chassis and do the same for the top. For the side mount, you can also fit two 120mm fans, along with the respective radiator size.
The rear side of the chassis also supports the 120mm fan. These fans do not come with the case, but you can install them later. However, it is also a good thing to have enough space for them.
Water Cooling Installation Support
For cooling your system components, you can also install extra radiators. The top and bottom both have a place to support the 360mm radiators. It may also depend on o the layout, but you will be able to shove thick radiators in here.
However, you have most space with Mini ITX boards. But when we talk about the ATX system, it will also work with 120mm wide radiators. The side radiators can be up to 280mm.
Power Supply Slot
Just like most PC cases, Lian-Li O11D also has seven PCI slots at the rear. But the PSU is not installed beneath; it has a placement at the left-hand side. If you don't have a smaller PSU, then there is hard luck for you to adjust.
Buying Guide for the Best Smallest ATX Cases in 2022
The Best Smallest ATX Cases are a more reliable and considerable choice for the users looking for compact cases. There are many extraordinary features in them, and they represent a stylish look while being lightweight and affordable
Before making a purchase, make sure about some critical factors of the portable ATX case. These vital considerations are following:
Small Size of Case
Size is the most important thing while buying a small computer case ATX for your computer. The size of the PC case depends on the size of the motherboard that can fit inside it. So, the first thing for consideration is the size of the case. It also decides how much the case is reliable and practical for future use.
If the size of your ATX case is small according to the size of the system's components, it may cause trouble for expansion. If you want to avoid these problems in the future, then make sure that your case is compact and spacious to fulfill your requirements.
Material Quality
Build quality means that which material gets used for the manufacturing of the product. The durability of any product directly depends on the material. Make sure that the case which you want has good build quality.
Look for the best material case and never compromise on the quality. If you want to buy a durable case, then always go for the metallic material because it is good material and will last longer than any other regular plastic substitute available in the market.
Airflow Cooling System
The proper airflow is also an essential factor not to neglect. Airflow is a critical factor for any custom gaming computer. It is responsible for the cooling of the components and prevents overheating. If the airflow of a PC case is weak or does not have proper circulation, then the components inside the case can damage from overheating.
These factors may cause a problem for your device, and you need to lower the temperature for good performance. That's why prefer the ATX case that offers good airflow in them. You may increase the ability of airflow by installing extra fans. This will help you to decrease the heat efficiently.
Motherboard Compatibility
Different PC cases are available in the market, but all cases are not compatible with every motherboard. It is important to know that different types of motherboards can support different types of cases. So, keep in mind that your smallest standard ATX case can house your desired motherboard.
Not only the motherboard but some other types of components are necessary to consider. For example, GPUs have up to 410mm in length, and if you want to go for the high-end card, the important thing is finding out the case that can house it.
Drive Bays
Drive bay is the place in the computer where your hard disk, floppy disk, or the other disk drives can accommodate. If we talk about the drive, they need the same protection as you protect the other components of the computer. You can only protect your drives if they have proper slots in the case.
That's why it is essential to find out the case that has enough bays for your existing drives and the drives you want to install in the future. If you plan to add hard drives or solid-state drives, ensure that your case's hard drive bays properly support the 3.5-inch & 2.5-inch HDD/SSD units.
Cooling Support Components
Liquid cooling PC cases are good to use if you need to use your computer for some of the extreme purposes, such as gaming. When you want to use your computer for gaming, then they also need protection from overheating. That's why water cooling or liquid cooling cases are good choices. These cases are not only best to cool your PC components but also look stylish.
Make sure that your smallest micro ATX gaming case provides suitable airflow and cooling to the system. Most cases come equipped with a rear-mounted radiator to keep the power supply, CPU, and graphics card cool.
USB Ports
A USB port is a standard cable connection interface for personal computers and consumer electronics devices. If you want external connectivity for your devices, make sure that your mini-tower comes equipped with the essential USB ports on the front side of the case for easy access.
These ports connect external devices like the keyboard, mouse speakers, and other parts of the computer. Make sure that these USB ports are at least 7 to 10 in the case for this purpose.
PSU Support
There is a separate compartment for the power supply in the ATX cases. This will ensure that the computer parts remain protected from damage due to the liquid and dust in the environment. That's why make sure about the separate PSU compartment in your case while purchasing. It is important to choose the case compatible with the power supply unit to support your build properly.
Recommendation
This guide tried to elaborate on all of the specifications about the top 5 best smallest ATX Cases. There are different options for you to buy a best case for your PC.  First of all, consider all of the requirements you want to see in your case, then make a wise decision to purchase a PC case. However, while buying your case, make sure for some of the necessary things, such as good cooling options, high-quality build cases, and unique quality.

After searching and reviewing the products, we highly recommended NZTX H510 as the Best Smallest ATX Case. This case has good specifications, which can meet all of the needs you want to see in the small cases. It is equipped with a Front I/O USB Type C and holds hard-shelled sides. Moreover, it boosts the single screw installation along with pre-installed channels and motherboard supports.